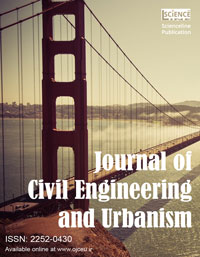 J

ournal of

C

ivil

E

ngineering and

U

rbanism
ISSN: 2252-0430

Editors-in-Chief
Dr. Heydar Dehghanpour, TURKEY

Dr. Kianoush Zaker Haghighi, IRAN

Indexed/covered by ICV, ProQuest, OAJI, EZB, TIB, Genamic, Google Scholar, ...details)

» Full texts and XML articles are available in Crossref.

» Digital Archiving: Journal Repository (eprints)
» This journal is in compliance with Budapest Open Access Initiative and International Committee of Medical Journal Editors' Recommendations.

» High visibility of articles over the internet through Gold Open Access.
» This journal encourage the academic institutions in low-income countries to publish high quality scientific results, free of charges... view Review/Decisions/Processing/Policy
Board Member Certificate: JCEU active members were: Dr. Amir Ghatefar; Dr. Ali Soltani;

details...
JCEU submission & acceptance rates

Year

Submission

Acceptance

2012

58

42 (72.4%)

2013

83

59 (71%)

2014

138

90 (65.2%)

2015

68

35 (

51.4

%)

2016

24

13 (54.1%)

2017

34

14 (41.1%)

2018

19

11 (57.8%)

2019

14

8 (61.5%)

2020

17

8 (47%)

2021

23

10 (43.4%)

The estimated time from:
Submission to first decision: 14 days
Submission to final decision: 38 days
Acceptance to final publication: 52 days
Frequency: Bimonthly

Current Issue: 2022, Vol:12, No:3 (May 25)
Current DOI Prefix: 10.54203

Publisher: SCIENCELINE

Journal of Civil Engineering and Urbanism (JCEU) is an international, peer reviewed journal aim to publish the high quality material from civil engineering, urban and regional planning areas...view aims and scope
TABLE OF CONTENTS
This work is licensed under a Creative Commons Attribution 4.0 International License (CC BY 4.0)