Editors-in-Chief:
Dr. Kianoush Zaker Haghighi, IRAN

» Indexed/covered by Ulrich's™ Web, ProQuest, ISC(RICeST), Norwegian Social Science Data, IndexCopernicus (ICV: 54.42), SHERPA/Romeo, EZB, TOCs, TIB, WorldCat, Genamics, Google Scholar i10-index=14) (view index information)

» Full texts and XML of articles in E-Journals Database (RICeST).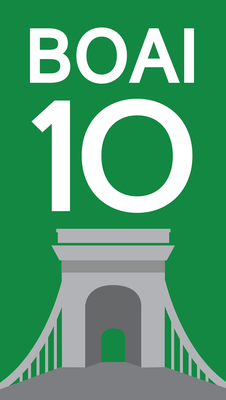 » This journal is in full compliance with Budapest Open Access Initiative.
» This journal encourage the academic institutions in low-income countries to publish high quality scientific results, free of charges...view Review/Decisions/Processing/Policy


JCEU active members: Dr. Ali Mashhadizadeh Roveshti, Dr. Amir Ghatefar...

details...
» Editorial team contact:
This e-mail address is being protected from spambots. You need JavaScript enabled to view it ; This e-mail address is being protected from spambots. You need JavaScript enabled to view it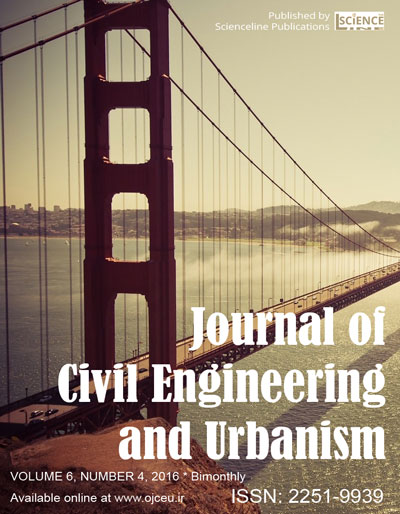 ISSN: 2252-0430

Frequency: Bimonthly

Current Issue: 2019, Vol: 9, No: 3 (May)

Publisher: SCIENCELINE

Sponsored by Maragheh University
Journal of Civil Engineering and Urbanism (JCEU) is an international, peer reviewed journal aims to publish the high quality material from civil engineering and urban and regional planning areas while focus on interact between civil engineers and urban planners in cooperating on projects...view aims and scope
TABLE OF CONTENTS
---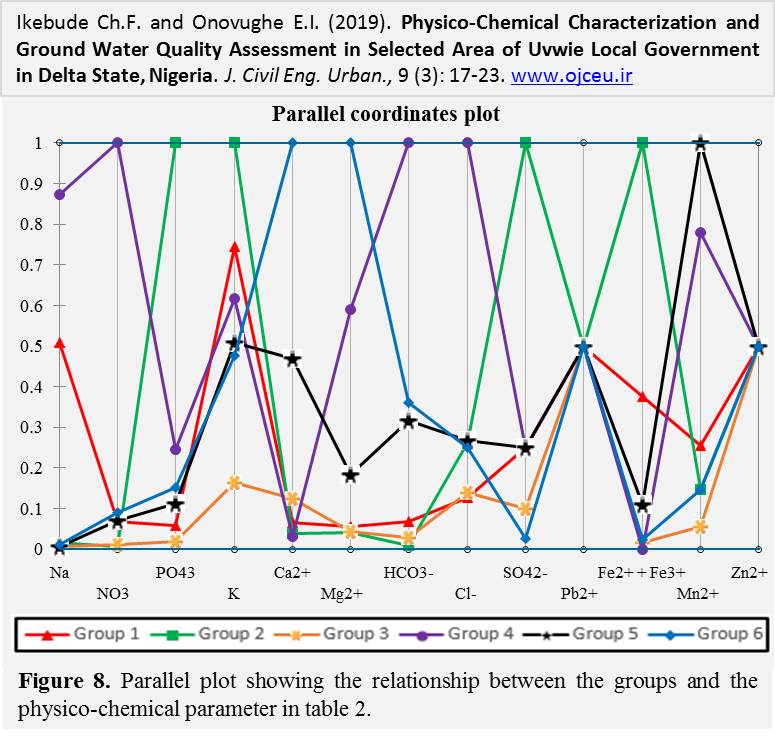 Research Paper
Physico-Chemical Characterization and Ground Water Quality Assessment in Selected Area of Uvwie Local Government in Delta State, Nigeria.

OIkebude Ch.F. and Onovughe E.I.

J. Civil Eng. Urban., 9(3): 17-23, 2019; pii:S225204301900003-9
---
Effective Moment of Inertia of Single Spanned Reinforced Concrete Beams with Fixed Beam-Column Joints.

Olanitori LM.

J. Civil Eng. Urban., 9(2): 07-16, 2019; pii:S225204301900002-9
---
The Study of Failure Mechanism of Reinforced Soil under Strip Foundation by PIV Method.

CAshkan F.

J. Civil Eng. Urban., 9(1): 01-06, 2019; pii:S225204301900001-9
---
The Analysis of Reinforced Soil under Strip Foundation by Measurement of the Displacement Vectors by the Means of Image Processing.

Ashkan F.
J. Civil Eng. Urban., 8(5): 59-65, 2018; pii:S225204301800010-8
---
Design of Composition of Basalt Fibre Concrete.

Van Thanh D.

J. Civil Eng. Urban., 8(5): 54-58, 2018; pii:S225204301800009-8
---
Research Paper
The Manifestation of Geometric Principles in the Traditional Architecture of the Monasteries; Case Study: Sheikh Shahab Al-Din Ahari Tomb and its Hidden Geometry.

Nazer Z and Nejadebrahimi A.
J. Civil Eng. Urban., 8(4): 44-53, 2018; pii:S225204301800008-8
[Abstract] [Full text-InPress]
---
Flexible Urban Public Spaces and their Designing Principles.

Sanei M, Khodadad S and Khodadad M.

J. Civil Eng. Urban., 8(4): 39-43, 2018; pii:S225204301800007-8
---
The Effect of Iranian Traditional Architectural Forms on Reducing Energy Consumption; Comparison of Two Types of Buildings in Hot-Dry and Cold Climates (Case study: Afsharian House and Ganjei Zadeh House).

Mehdizadeh Dalir S and Mokhtari Kashavar M.
J. Civil Eng. Urban., 8(3): 33-38, 2018; pii:S225204301800006-8
---
Women, Urban Designing and Planning with Emphasis on Iran.

Sarvar H, Afzali Guroh Z and Kheiri T.

J. Civil Eng. Urban., 8(3): 25-32, 2018; pii:S225204301800005-8
---
Reduction of Damage of Buried Ammunition Depots in the Ground by Crumb Rubber Cement against Explosion Force.

Mirzaee M, Vaezi M and Mamandi S and Abdolrahman O.
J. Civil Eng. Urban., 8(2): 17-24, 2018; pii:S225204301800004-8
---
Extreme Value Analysis of Wind Speed Data using Maximum Likelihood Method of Six Probability Distributions.

Vivekanandan N.

J. Civil Eng. Urban., 8(2): 12-16, 2018; pii:S225204301800003-8
---
Operative Guidelines for Sustainable Designing of Child-Oriented Architectural Spaces.

Khodadad M, Moosavi Nadoshan SM, Khodadad S, Sanei M.
J. Civil Eng. Urban., 8(1): 06-11, 2018; pii:S225204301800002-8
---
Studies on Regular and Irregular Tall Structures Subjected to Earthquake Loading.

Chaya M and Naveen GM.
J. Civil Eng. Urban., 8(1): 01-05, 2018; pii:S225204301800001-8
---
The Use of Engineered Materials Arrestor System in Emergency Landings of Helicopter.

Molaei J and Davari Algoo S.

J. Civil Eng. Urban., 7(6): 95-102, 2017; pii:S225204301700014-7
---
Evaluation of Seismic Response Modification Factor for Asymmetric Structures.

MagarPatil H. R.

J. Civil Eng. Urban., 7(6): 87-94, 2017; pii:S225204301700013-7
---
Research Paper
Effect of Steel Bracing on Ultimate Strength and Stiffness of Reinforced Concrete Frames.

Damodar Dubey Sh-k and Kute S.

J. Civil Eng. Urban., 7(6): 80-86, 2017; pii:S225204301700012-7
---
Evaluation of Settlement in Soil Layers due to Liquefaction in Alluviums in South Eastern of Tehran.
Nouhi Oskoui R, Dabiri R, and Amelsakhi M.
J. Civil Eng. Urban., 7(5): 70-79, 2017; pii:S225204301700011-7
---
Study on Stability of Polypropylene Fibre Concrete in Water and Abnormally High Temperature.
Van Thanh D.
J. Civil Eng. Urban., 7(5): 65-69, 2017; pii:S225204301700010-7
---
More ...

This work is licensed under a Creative Commons Attribution-NonCommercial 4.0 International License.